How to Restore Your Headlights using the 3M Headlight Restoration Kit
Difficulty: Moderate
Yellowing headlights can ruin the appearance of your car and negatively affect the light output at night but with this tutorial we can get your headlights as good as new (if not better)! However, you must act quickly as yellowing can eventually put little cracks deep into your headlight, meaning you'll have to buy a whole new, expensive headlight. It is possible to do this by hand (click here for that tutorial), but it is a long and laborious process. The 3M Headlight Restoration Kit is cheaper, quicker and more efficient than by hand.
Step 1: Preparing Your Headlights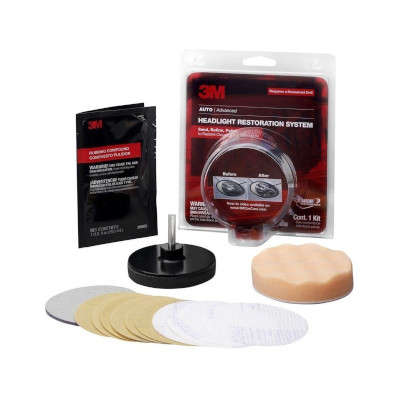 Wash the lens of your headlight with soap, water and a sponge. After the headlight is washed thoroughly, dry it off using a drying cloth and tape off the surrounding areas with masking tape to protect the paintwork.
Mound the disc pad holder onto your drill and attach the gold P500 grit abrasive disc. Using this, sand back and forth over your headlight with medium pressure until the yellow haze (and any other surface defects) are removed. This should leave a white, evenly sanded surface, giving a slightly frosted effect. If the lens is glossy or clear, repeat the sanding process.
Step 2: Sanding the Scratches
Attach the white P800 grit disc to the disc pad holder and sand the headlight as before. And wipe the lens with a microfibre cloth to check for any scratches. This step will make these scratches finer than before.
Replace the P800 grit disc with the P3000 Trizact Foam Disc. Use a spray bottle to wet the headlight with water and sand once more, constantly keeping it damp. Typically, this will create a white residue, if it does, sand over the lens 4-6 more times. However, if you don't see the residue, sand over the headlight 10-12 times.
Wipe the lens with the microfibre cloth to check for any more scratches, and if you see any coarse ones, repeat the P3000 sanding process.
Step 3: Polishing Your Headlights
Attach the orange foam compounding pad to the disc pad holder and squeeze out a small amount of the rubbing compound onto it. Without turning on the drill, rub the foam pad over the lens.
Finally, polish the headlight with the drill on until the lens becomes clear and the cloudy haze is removed.
If you want more shine, you can add more of the rubbing compound to the headlight.
Your headlight should now be clearer, shinier and with a better light output!
Products Used In This Tutorial
3M Headlight Restoration Kit

Sponge

Drying Cloth
Meguiars Water Magnet Microfibre Drying Towel
Making Tape

Scotch 24mm x 50m Blue High Performance Masking Tape 3434, 36 rolls
Microfibre Cloth

Spray Bottle